Fort Rosecrans Peacefully Honors Our Military History
| | | |
| --- | --- | --- |
| July 25th, 2013 | | | SofiaBlog |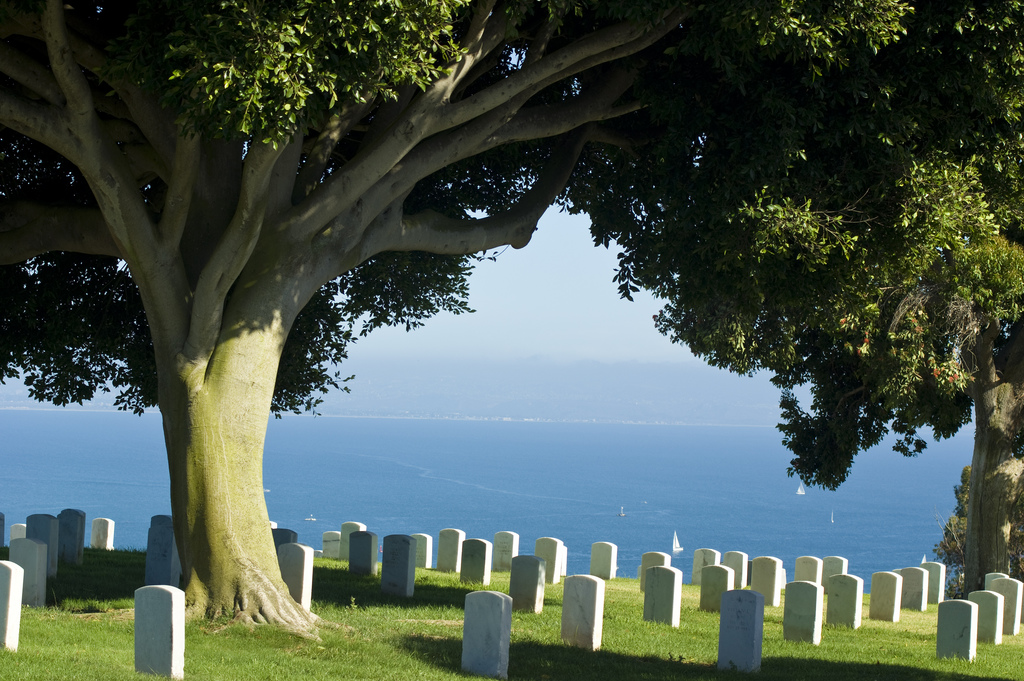 At once sobering and achingly beautiful, Fort Rosecrans National Cemetery, just 10 miles west of the Sofia Hotel, is one of the metro area's most rewarding destinations.
Set on Point Loma immediately north of Cabrillo National Monument—the site of the first European landfall on the West Coast—the cemetery marks the final resting place of about 100,000 individuals, many of whom gave their lives in service to the nation.
The exquisite grounds enjoy a spectacular perch, with the mighty Pacific westward and San Diego Bay and the city to the east, as anyone driving south to the monument is well aware: Rows of white headstones roll away from the road in striking rank against a stunning backdrop.
The cemetery, first established in 1882 (and designated a national cemetery on October 5, 1934), is a wonderful place to honor those interred while pondering great sweeps of California history. Among the earliest buried here lost their lives in the Battle of San Pasqual, an early skirmish of the Mexican-American War fought in 1846 on the northern edge of San Diego between Californios and U.S. forces under General Stephen Watts Kearny.
A monument to the San Pasqual casualties, installed in 1922 by the Native Sons and Daughters of the Golden West San Diego chapter, is one of numerous war memorials in the cemetery. Another recognizes those lost in the USS Bennington tragedy of 1905, when a boiler exploded on a U.S. Navy gunboat docked in San Diego as its crew prepared to head out on a rescue mission. A number of World War II monuments grace the grounds as well.
Reflect on all the stories contained at Fort Rosecrans as you wander its peaceful, sublimely picturesque setting. Whether you're here to visit with a loved one, to pay a general tribute to your countrymen and women, or to soak up the quieting atmosphere and broad views, you'll sense the sacredness. Be sure to continue your immersion in San Diego history at the Cabrillo National Monument down the road.
Photo credit: exquisitur