'Hop' Around Downtown San Diego And Explore Our Craft Breweries
| | | |
| --- | --- | --- |
| March 16th, 2015 | | | SofiaBlog |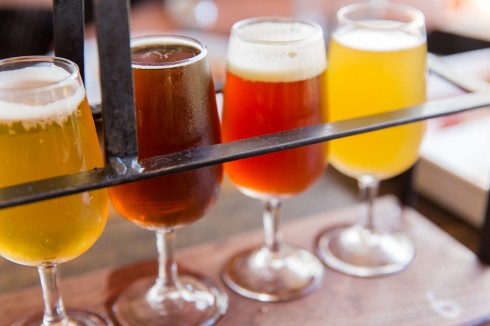 For lovers of American craft beer—unquestionably some of the world's best, something we can say without any nationalistic hyperbole—San Diego is sacred ground. It's been called (as Time noted a couple years back) the "hoppiest place on Earth," not least because of the outstanding India Pale Ales (IPAs) the city's known for—a distillation of an entire West Coast brewing tradition.
Our local brewers are famous countrywide for their innovative and elegant concoctions of water, yeast, malt, and hops. Legends such as Stone Brewing Co. (biggest in Southern California, and once ranked by the Beer Advocate readership as the best brewery "on Planet Earth") have been doing their good work for nearly two decades at this point. Any fans of high-class microbrew—and, really, anyone interested in one of the most exciting fronts of the modern-day culinary scene—ought to spend a day or a week exploring San Diego's homegrown beer ecosystem, which includes veterans like Stone and also plenty of exciting up-and-comers.
Fortunately, as a guest at the Sofia Hotel, you're perfectly positioned to survey the city's 75-plus breweries. Here's one itinerary for a topnotch craft-beer walking tour—suggested by Bruce Glassman over at the San Diego Tourism Authority website—which features some of the city's finest watering holes, all within an easy distance from the Sofia.
A fabulous tour of San Diego's downtown can be had with Glassman's survey of Karl Strauss, Mission Brewery, Monkey Paw Brewery and Pub, and Coronado Brewing Company—with some world-class libations, of course, taking center stage. Karl Strauss (on Columbia Street) offers standouts such as Red Trolley Ale, Pintail Pale Ale, and plenty of the IPAs—from Big Barrel Double IPA to Tower 10 IPA. Mission Brewery (on L Street) serves up an incredible spectrum of beers, not least exceptional IPAs such as the Shipwrecked Double.
As Glassman notes, one of the charms of Monkey Paw (on 16th Street) is the comprehensiveness of its tap-list, which encompasses many other Southern Californian masterpieces alongside its own flagship beers such as Chinook IPA and Bonobos Pale Ale. And Coronado Brewing Company (on Orange Avenue), over on the island off San Diego Bay, will tantalize your tastebuds with brews such as Mermaid's Red, Blue Bridge Coffee Stout, and the colorfully named Idiot IPA.
The beer scene in San Diego is an entire universe to explore: one founded on delicious flavors, local pride, and a whole lot of friendly sociality. Here at the Sofia, we'd be proud to serve as your accommodations while you explore this rich world!