Climb The California Tower At The San Diego Museum of Man
| | | |
| --- | --- | --- |
| November 23rd, 2015 | | | SofiaBlog |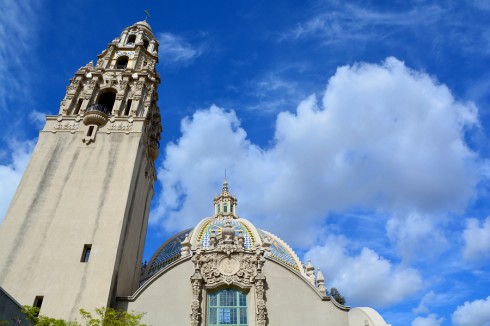 For the first time in the better part of a century, you can enter one of San Diego's best-known and most beloved landmarks—and it's only a short trip from the stoop of the Sofia Hotel!
For close to eight decades, the San Diego Museum of Man's iconic California Tower was closed to the public. After several years of work, however, the museum—a century-old fixture of Balboa Park—got the thumbs-up from the city to reopen the beautiful spire on January 1, 2015. Now's your chance to nab an up-close and personal look at this instantly recognizable architectural showstopper!
The Backstory
The tower and the rest of the California Building that the Museum of Man calls home come soaked in history. Schemed up by architect Bertram Goodhue, the Spanish-Colonial structure formed, as part of the Plaza de California, the entranceway to the 1915 Panama-California Exposition, held on the occasion of the Panama Canal's opening. Its elaborate stone façade includes some striking clay- and plaster-carved statues and busts of noted figures—among them Junipero Serra, who founded California's first Spanish missions; Juan Rodrigues Cabrillo, the first European to enter San Diego Bay; and Gaspar de Portola, Southern California's first Spanish governor. The California Tower itself combines Spanish and Mexican elements in its three-tiered, 198-foot loom, which includes an electric carillon that chimes on the quarter-hour.
The California Tower enjoys added fame for its small but notable role in cinema history. It and the California Building appeared as the fictional Xanadu mansion in the opening newsreel scene of Orson Welles's 1941 masterpiece Citizen Kane. For movie buffs, that's reason enough to visit!
Inside the Tower
You can only enter the California Tower on a guided tour, which lasts 40 minutes and ascends 125 steps to the public viewing deck on the eighth floor. To learn more about how the tour works and its stipulations, check out the Museum of Man's website.
On a clear day, the prospect from the California Tower's viewing deck is truly spectacular: They stretch from the Cuyamaca Mountains in the north down to Baja California's Coronado Islands and beyond, and from the Lagunas westward over San Diego Bay and the Pacific.
Meanwhile the Museum of Man, which has been going strong since the Panama-California Exposition, is its own remarkable attraction—and admission's included with a California Tower tour ticket!
Balboa Park and the California Tower are easily reached by public transportation or foot from the Sofia Hotel.