Celebrate the Holidays With the 46th Annual San Diego Bay Parade of Lights
| | | |
| --- | --- | --- |
| December 4th, 2017 | | | SofiaBlog |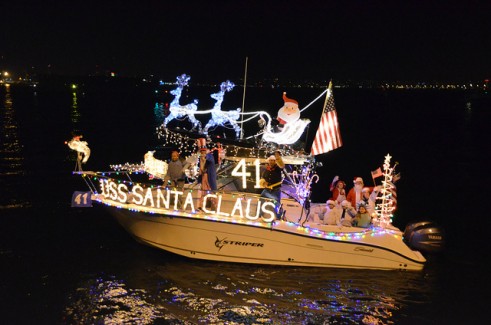 One of San Diego's most beloved holiday traditions is nearly upon us: the San Diego Bay Parade of Lights!
We hope you'll consider joining us at the Sofia—one of the most beloved hotels in SanDiego—in order to experience, along with more than 100,000 other spectators from near and far, this bedazzling on-the-water display!
The San Diego Bay Parade of Lights: A Holiday Spectacle to Cherish
This year's Parade of Lights takes place on two consecutive Sundays: December 10th and December 17th. Those evenings, you can feast on the sight of 80-plus luxuriantly lit and deliciously decorated boats as they are wending a merry course through the bay: from Shelter Island across the America's Cup Harbor entrance to Harbor Island, the Embarcadero, Seaport Village, the Pier at Cesar Chavez Park, and then to the "finish line" at Coronado Ferry Landing.
USA Today recently chose the San Diego Bay Parade of Lights—motoring along for its 46th year—among the contenders for the "Best Holiday Parade" in the nation.
Each year's Parade of Lights comes with a theme, and 2017's should surely delight any and all scalawags: It's "Arrrgh! A Pirate's Christmas."
Viewing the Parade
Timing-wise, the piratical procession begins at 5 PM and takes roughly an hour to pass any given vantage. You can check out more viewing details at the official website, but as a rough guide the parade will reach Harbor Island at 5:30 PM, the Embarcadero at 6 PM, Seaport Village a half-hour later, and Cesar Chavez Park at 6:45 PM.
At the Embarcadero Maritime Museum and at the Coronado Ferry Landing, meanwhile, announcers will be providing information about the boats forming the parade, so if you'd like some insider knowledge stake out around those viewpoints.
Parking's hard to come by along the Bayfront, but with accommodations at the Sofia Hotel you're within easy reach of the all the luminous action: The Embarcadero and Seaport Village vantages are remarkably close.
Take in the 2017 San Diego Bay Parade of Lights During Your Stay at the Sofia Hotel
So, come enjoy downtown hospitality at one of the standout hotels in SanDiego, the Sofia, and while you do mosey over to the waterfront on December 10 or 17 (or heck, both nights, if you're so inclined) to watch the famous San Diego Bay Parade of Lights!