Warm Up Your Winter With A Bonfire On A San Diego Beach
| | | |
| --- | --- | --- |
| February 24th, 2016 | | | SofiaBlog |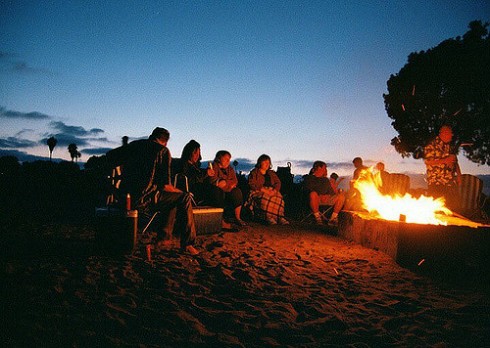 What better way to close out an afternoon on one of our grade-A San Diego beaches than with a bonfire?
There's something that's just about universally appealing about a (controlled) blaze on a beach: the flames dancing to the soundtrack of Pacific surf, the sunset making its own fiery display over the ocean skyline. When you know you have a plush bed awaiting you at the Sofia Hotel not far away—well, that's what we call a pretty darn idyllic day on the San Diego waterfront.
This time of year, a bonfire feels especially nice as the sun starts easing down the western sky. San Diego's mid- to late-winter temperatures are delightfully balmy compared to most of the country, but a little (Southern California-style) chill in the air makes a fire pit all the more inviting.
It should come as no surprise that you can't light a seaside bonfire willy-nilly: They're only allowed at certain county beaches, and then only in designated fire pits. The following area beaches have bonfire setups: Harbor Beach and Pier View South (in Oceanside), Moonlight State Beach (in Encinitas), Pacific Beach, South Mission Beach (in Mission Beach), Ocean Beach Park (in Ocean Beach), Coronado City Beach and Silver Strand State Beach (in Coronado), and Imperial Beach City Beach.
Those make for some utterly gorgeous spots to kick back around a cheerful fire. It's hard to beat, for instance, the serene Pacific atmosphere of Silver Strand State Beach, set on that lovely isthmus of the same name that leads to Coronado Island. But all of San Diego's bonfire beaches have their distinct charms, no question.
(Remember when you're out and about to abide by all of San Diego's beach regulations. Fire-wise, that means no bonfires between midnight and 5 a.m.; no burning of garbage; using only wood, charcoal, or paper as fuel; and keeping said fuel no more than a foot above the fire ring's top. Douse your bonfire completely once you're done; if you used coals, either haul them away or leave them in designated hot-coal containers.)
Come pay the Sofia Hotel a wintertime visit, and cozy up your afternoon or evening with a classic beach bonfire!
Photo credit: pesotum